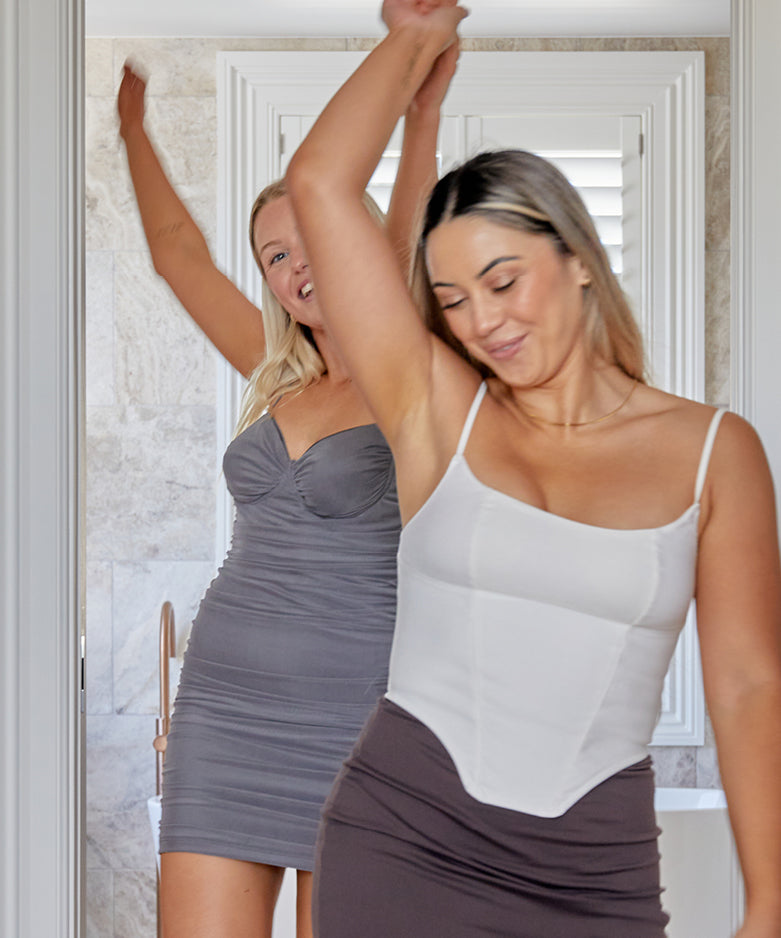 How did Eve start?
In 2018 we surveyed over 14,000 women about their hormone health.
A whopping 87% reported experiencing signs of hormone imbalance on a regular basis.
What did we do with this knoweldge? We built a laboratory, of course. We hired scientists and researchers, and launched comprehensive at-home hormone testing throughout New Zealand and Australia.
Eve has analysed the hormone health of thousands of people, providing them with personalised recommendations to help them thrive.
The key trends and data from our lab testing inspired a range of supplements formulated to support the hormonal issues people struggle with the most.
Our Mission
Eve is on a mission to end the shame surrounding taboo health topics such as hormones, periods, sexual and mental wellbeing.
Periods, fertility, hormones, pregnancy, and contraception are beacons of empowerment and without knowledge, we lose that power.
We're over the 'hush-hush'. We're here to say the quiet bit out loud without judgement and with an open mind.
Backed by science & research
Save 15% on subscription
Free shipping on all NZ orders
Opening Up The Conversation
The taboo around women's health has been pervasive for too long and at Eve, we're not here for it.
Periods, fertility, hormones, pregnancy and prevention are beacons of empowerment and without knowledge, we lose that power.
An open conversation with likeminded people, at all stages of the journey, gives the confidence and self-expertise needed to be your own best friend.
All Eve platforms are a celebration of the self; a place to learn with an open mind and without judgement. We hope you like it here!
As seen in
Meet Our Team
Meet Our Team
Beatrice Thorne - Co-Founder & General Manager 
Beatrice Thorne - Co-Founder & General Manager 
My own hormonal sh*t show after I came off the pill became our inspiration for Eve. I knew I wasn't alone in my experiences, so we created Eve to provide support to people facing taboo health issues, who needed help. It's vital that we open up the conversation around hormones, sex, mental wellbeing and periods so people know that they can feel better - and that they deserve to. Knowing that the work we do makes a difference to people's lives is what gets me out of bed every day.

BA - Modern Foreign Languages (German & Italian), Cardiff University, UK
Caitlin Treacy - Marketing & Content Specialist
Caitlin Treacy - Marketing & Content Specialist
I have always been incredibly passionate about food, and the role that nutrition, exercise and hormones play in women's health. I feel so lucky to be able to be in the position I'm in; working with smart, like-minded people, to help people better understand their overall health and wellness.

BSc - Human Nutrition, Otago University
BComm - Marketing, Otago University
Lisa Walker - Lead Research & Formulator
Lisa Walker - Lead Research & Formulator
As Eve's product formulator & lead researcher, I am ever grateful for the opportunity to help change this and elevate others through science, education, and the development of specialised product formulations that solve real problems and make a noticeable difference in people's lives.
BA - Psychology, Massey University
Diploma in Nutritional Science, Naturopathic College of NZ
Diploma in Fitness, Fitlink NZ
Certificate 3 & 4 in Personal Training, NZ Institute of Health & Fitness
Cheyenne Welham - eCommerce Manager
Cheyenne Welham - eCommerce Manager
My own complex health journey has made me incredibly passionate about women's wellness. It's critical that women are represented in all areas of society. That's why I'm excited to be working for Eve and playing a small part in changing the narrative.
BBus - Marketing, Massey University
Lauren Ambrose - CRM & Digital Specialist
Lauren Ambrose - CRM & Digital Specialist
A long journey of losing and regaining my period in my early twenties opened my eyes to just how wise and powerful the female body can be and I don't think I've shut up about it since. I'm forever grateful for the small role that I get to play in making a real difference in the lives of real women at Eve.
BComm - Marketing & Commercial Law, University of Auckland
Sabrina Hadley - Sales Manager
Sabrina Hadley - Sales Manager
I've always been passionate about health and wellness, and working at Eve I've learnt so much about hormones which has helped my own health journey. As the Sales Manager at Eve I'm thankful to be able to get our amazing products into more retail stores and into more people's lives.
BSc - Sport and Recreation
Diploma in Sport Studies
"I wish I had tried this years earlier! Wow, just wow. I have always experience bad cramps, clotting and heavy periods, although I have very regular periods they would leave me feeling so sluggish and in so much pain from the cramps. I started taking it 4 days before my period was due, and when I got my period it subsided my cramping from a 7 to a 2-3 pain level, I have so much more energy the clotting is sooo much better too!! I can't imagine how great this is gonna be after 2-3 months of usage! So thankful for this product. I wish I had started using this ages ago!"
"I have never written a review before but I had to write one about these supplements. After being on and off the pill for all my teenage years for skin, last year I tried to go off it to see if my skin would be okay without it and it was quite the opposite - I got the most painful cystic acne I've ever had. So I went back on it, skin cleared. A few months ago I wanted to try again and come off it as I knew I couldn't just put a bandage on the issue. After doing some research I bought these in hope it would lesson the effects coming off the pill and it's done just that!!! I couldn't be more happier. I haven't had a single spot or blemish from coming off the pill. THANK YOU!!"
"I can honestly say that I've noticed such a difference since taking Chill Pills, especially during the day. My anxiety has decreased and I feel so much calmer, able to tackle busy workdays without feeling shaky and overwhelmed. I also gave a friend two Chill Pills the night before being a bridesmaid at a wedding and she said she slept so well! Just knowing I have the support of a fast-acting supplement on hand has allowed me to start the day with a positive mind frame, empowered that I will get through any challenges ahead."