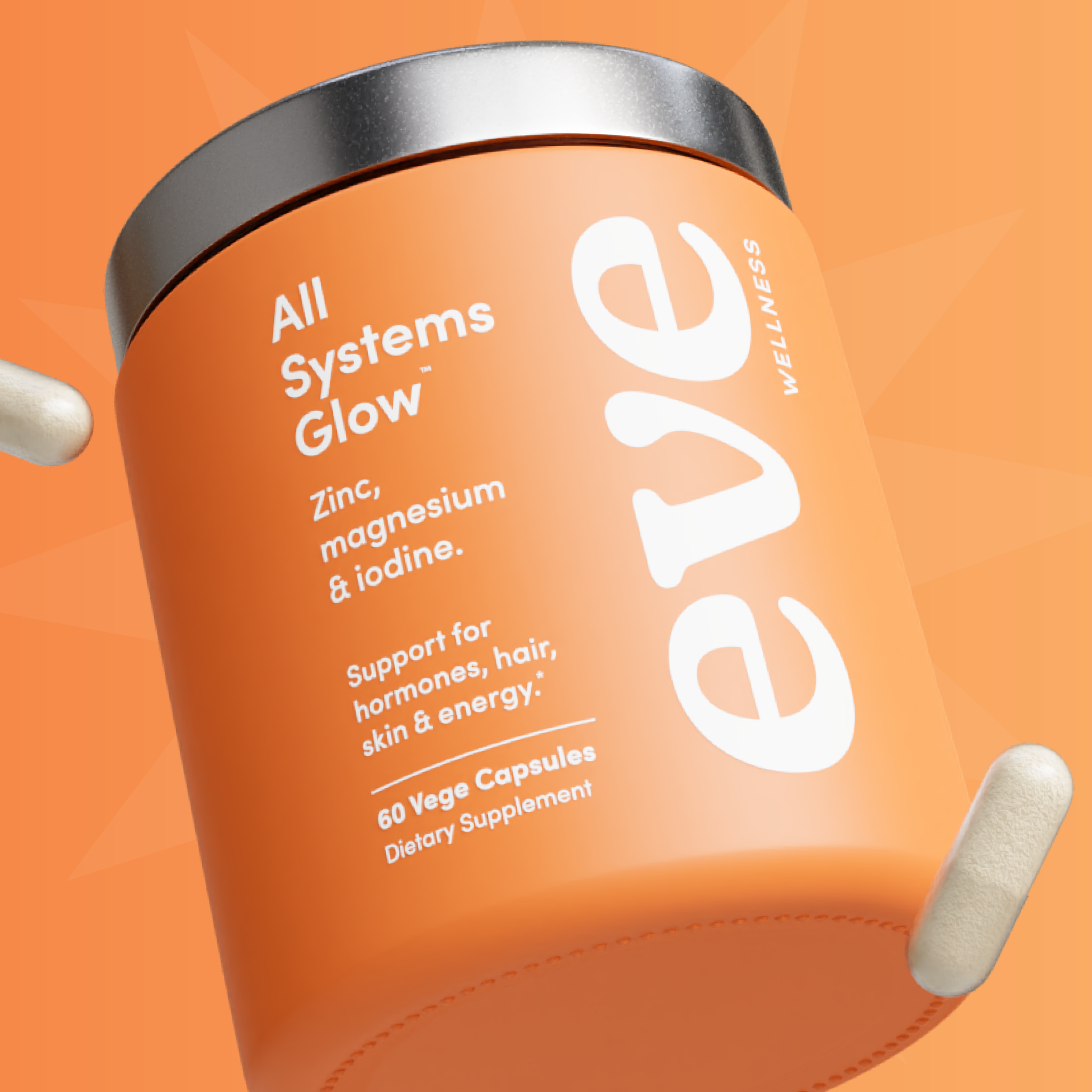 Free shipping on all NZ orders
14-day returns. Read our FAQs for more info
Overview

Ingredients

Directions
Zinc, Magnesium and Iodine: your new 3-in-1 wellness hack.

Zinc is clinically proven for strong hair, skin and nails and healthy digestion. Magnesium glycinate is celebrated for its bioavailability and gut friendliness and supports relaxation and mental calmness. Finally, Iodine plays a central role in energy production, hair growth and fullness, brain function and thyroid health. And all three are powerful players for hormone balance.

This powerful trio of essential nutrients performs over 500 key processes within our bodies. So if you're in your 'wellness' era, look no further.

Contains 60 capsules, one month's supply.
Why Try All Systems Glow?

Over 10-step routines and excessive products? Us too. That's why we made All Systems Glow: your 3-in-1 wellness hack to support:

Balanced hormones
Stress & relaxation
Hair growth & fullness
Healthy, glowy skin
Libido support
Strong nails
Mood & energy
Thyroid function
Hormonal acne
Key Ingredients

Zinc

Zinc is responsible for over 200 enzymatic reactions in the human body - making it one of the most essential minerals for our health and wellbeing. It plays a critical role in hormone production, skin health and mental wellbeing.

Magnesium

We use magnesium glycinate - a form that is backed by clinical studies and shown to be better absorbed by the body and non-irritating for sensitive tummies. Magnesium is one of the most essential minerals for women's health due to its essential role in nervous system health, sleep, and blood sugar balance.

Iodine

Iodine is an essential mineral required for cognitive function, thyroid hormone production, breast health, energy & hormonal wellbeing.
FAQs

How does All Systems Glow work?

All System Glow combines three key minerals: Zinc, magnesium and iodine. These are essential to a huge amount of cellular processes in our body but are especially important for our balanced hormones, sleep, mood and hair, skin and nails.

How can All Systems Glow help me?

This mineral combo is super helpful for anyone experiencing or working on: Hormonal acne, PMS, Tender breasts, Postpartum hair loss, Stress and overwhelm, Feeling wired and tired, Trying to improve sleep and skin, Athletes and recreational exercisers, Wanting to support their breast and thyroid health

Is All Systems Glow suitable for children?

All Systems Glow is recommended for ages 12+ Reach out to us if you have any questions via info@evewellnessco.com.

Is All Systems Glow suitable for vegans?

Yes! All Systems Glow is totally free of animal products.

Is All Systems Glow safe to take while pregnant/breastfeeding?

Yes! In fact it is super beneficial, just be sure to check in with your health professional when combining this with other multivitamins.

How long before I start to see a difference?

Everyone is different and when you start to see results can vary depending on your unique body and nutritional demands. All Systems Glow is designed for long-term use, and so you may notice improvements in your energy, sleep & mood within 1-2x months. As your nutrient status improves over time that's when the glow-up really begins.

Can I take All Systems Glow with my medication?

If you are on any medication we recommend reaching out to our support team via info@evewellnessco.com to confirm if your medication is safe to take with our All Systems Glow. We also recommend checking with your health professional if you are on thyroid medications or have a known thyroid autoimmunity.

Is All Systems Glow allergy-friendly?

Yes! All Systems Glow is: Gluten free, Soy free, Dairy free, Corn free, Refined sugar free, GMO free, Free of artificial colours, flavours and additives
Shipping

Free shipping on all NZ orders

All orders within New Zealand will receive FREE shipping. Orders placed before 12pm Monday- Friday have an overnight delivery service. Allow an extra day for rural delivery.

Free shipping to Australia over $89

We offer free shipping to Australia for all orders over $89. Any orders under $89 have a shipping fee of $30. Learn more.

Free 14-day returns

We can refund any returned products that are within 14 days of purchase, unopened with the tamper seal still intact, and returned in their original packaging. Learn more.
Eve's Story
Eve is on a mission to end the shame surrounding taboo health topics such as hormones, periods, sexual and mental wellbeing.
Periods, fertility, hormones, pregnancy, and contraception are beacons of empowerment and without knowledge, we lose that power.
We're over the 'hush-hush'. We're here to say the quiet bit out loud without judgement and with an open mind.